Social Media Trends for Restaurants in 2022-23
According to VentureBeat and a study conducted by EY, 84 percent of consumers have changed brands or purchased more from brands that they follow in social media. In a similar study reported by Forbes, 74 percent of consumers said that they are likely to recommend companies that they follow on social media.Social Media Trends for Restaurants is now getting more emphasis for business overall growth.
This indicates that it is absolutely necessary for restaurants to strengthen their presence across all of the various social media channels.A robust social media strategy will not only help restaurants stand out from the competition, but it will also help promote their brands directly to their customers.
While an increased social media presence is important for all restaurants, creating engaging and relevant content should be the main focus. This content can include anything from recipes and cooking tips to behind-the-scenes photos and videos.
By producing quality content, restaurants will not only increase brand awareness, but they will also encourage customers to come back for more.
A business owner should be aware of the following five Social Media Trends for Restaurants:
Facebook for restaurants – a new way to reach diners
Use Instagram to show off your food
Get creative with Snapchat filters
Creating shareable content
Twitter – Offering discounts and promotions
1.Facebook for restaurants – a new way to reach diners
Facebook remains the dominant social media platform for restaurants.Over 80% of restaurant owners say they use Facebook, and it continues to be one of the most effective platform for reaching new customers.
Restaurants are continuously looking for novel marketing strategies to attract new customers. Advertising on Facebook is a fantastic choice because it enables you to focus on a specific demographic and communicate directly with them.
You can choose to show your ad to people who live in a certain area, who have interests in food, or who have indicated that they're looking for a new restaurant.
Using Facebook Live to connect with your patrons and provide them with a glimpse of what goes on behind the scenes at your restaurant is an excellent marketing strategy.
2. Use Instagram to show off your food
Instagram is one of the Social Media Trends for Restaurants now a days.Instagram is the ideal medium for displaying photos of your culinary creations. People can often be seen drooling over photographs of mouthwatering food; therefore, it is imperative that you make full use of this potent method of advertising.
Use hashtags to reach a wider audience, and consider partnering with local influencers to help spread the word about your restaurant.
Use Instagram Stories – Instagram Stories are a great way to show off your food and give potential customers a behind-the-scenes look at your restaurant. Be sure to use relevant hashtags and tagging to reach the widest audience possible.
3. Get creative with Snapchat filters
According to a recent study, Snapchat is now the most popular social media platform among restaurant goers. If you're not already on Snapchat, now is the time to get started!
It's no secret that Snapchat is a huge hit with today's youth, and its user base continues to grow.Take advantage of its unique features by creating custom filters for your restaurant that diners can use when they take photos.
This is a great way to get your brand in front of a new audience and build some buzz around your restaurant.
4. Creating shareable content
Another Social Media Trends for Restaurants is about sharing meaniningful and relevant content. In order to gain traction on social media, you need to create content that people will want to share. Whether it's mouth-watering photos of your dishes, behind-the-scenes videos of your kitchen, or creative posts about your specials, give your followers something to talk about.
5. Twitter -Offering discounts and promotions
While Twitter may not have the same user base as Facebook, it's still an important platform for restaurants. In fact, over 60% of restaurant owners say they use Twitter to connect with customers and promote their business.
Promotion of your restaurant can be done quite effectively on Twitter. You can offer discounts and promotions, and you can share news about upcoming events.
If you're hosting a special event at your restaurant, live-tweeting it is a great way to spread the word and generate interest. Make sure to utilise the appropriate hashtags and keywords in order to attract the largest audience you can.
Final Verdict
Follow these Social Media Trends for Restaurants and If followed correctly, these social media trends can help any restaurant succeed. Increasing their presence across all channels and focusing on creating quality content will help promote their brand directly to their customers. Additionally, utilizing social media advertising can be highly beneficial in reaching new audiences and increasing traffic and sales.
If you are that restaurant owner who wants to hire us as an restaurant marketing consultant to do online marketing for your services, you may contact us at sales@webinnoovators.com
Give us a phone or fill out our contact form below to receive a FREE restaurant evaluation in which we will examine where you are currently at, what you need to do, and what are your rivals are doing to help you succeed.
Get free consultation

As an agency we are one of the best restaurant marketing companies in India and abroad.
About us and this blog
We are a digital marketing company with a focus on helping our customers achieve great results across several key areas.
Request a free quote
We offer professional SEO services that help websites increase their organic search score drastically in order to compete for the highest rankings even when it comes to highly competitive keywords.
Subscribe to our newsletter!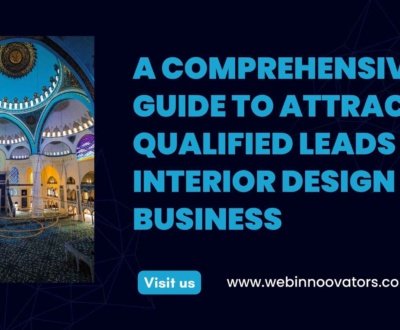 As an interior designer, generating leads for interior design business is crucial…
[easy-share counters=1 counter_pos="inside" native="no" hide_total="yes" fullwidth="yes" fullwidth_fix="100"]